One of Africa's most influential evangelists, founder of the Synagogue, Church of All Nations; Prophet TB Joshua is DEAD. Age 57.
Prophet Temitope Balogun Joshua the founder of the Synagogue, Church of All Nations (SCOAN) has died aged 57, according to social media posts on his official Twitter account and news reports.
He was said to have died on Saturday shortly after conducting a live broadcast, but the cause of his death has not been fully made public.
He was one of Nigeria's most popular televangelists but was perhaps the least flamboyant of his peers, though; Tens of thousands would attend his services, with top politicians from across Africa among his followers.
According to some who attended his sermon they said his teachings and practices were controversial, but to some he was the only vessel of God who could have touched their lives, that he's God's own called servant.
How he died, his last moments: TB JOSHUA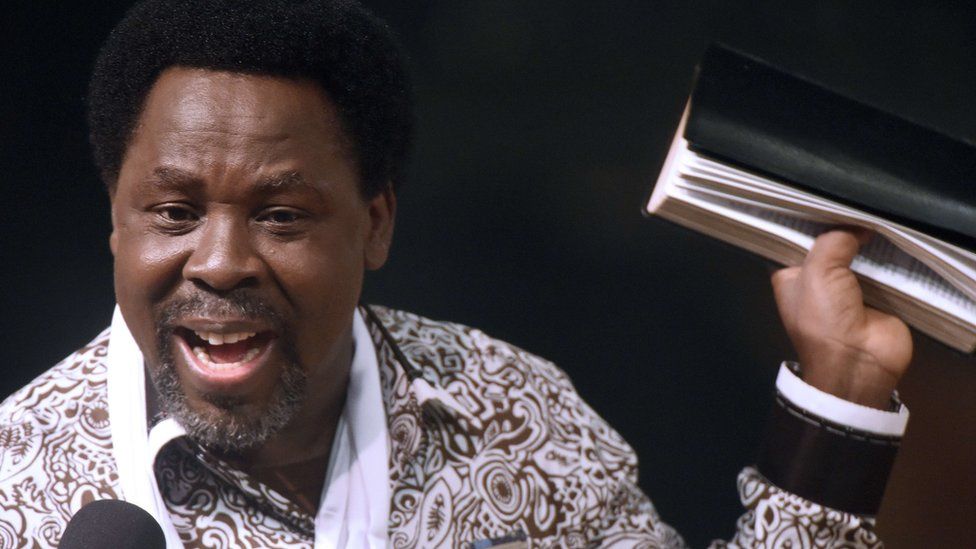 The founder of the Synagogue Church of All Nations (SCOAN) was conducting a church service when he suddenly felt uncomfortable, Wapfreshest media has learnt.
The popular prophet, sources said, passed away around 2am, hours after he walked to his apartment midway into the service, presumably to get some rest.
Born on June 12, 1963, Prophet TB Joshua died six days to his 58th birthday.
It was gathered that Joshua had walked out of the church to his apartment when he felt uncomfortable during the service that commenced around 6pm on Saturday.
Although it was not clear at what point he left the hall, Wapfreshest Media learnt he had officiated the service for some hours before he stepped out.
His aides and members, it was gathered, thought he was going for a quick break but became anxious when he didn't return after a long time.
Wapfreshest Media gathered that when he did not return, his aides went to check on him but found him in an uncomfortable/unusual position.
An active member and close family friend of (SCOAN) told Wapfreshest Media that close relatives and friends were protecting and consoling his wife.
Although the cause of death was not disclosed, the source said the entire place is to be "sanitised".
People who confirm that Prophet TB Joshua is DEAD. Age 57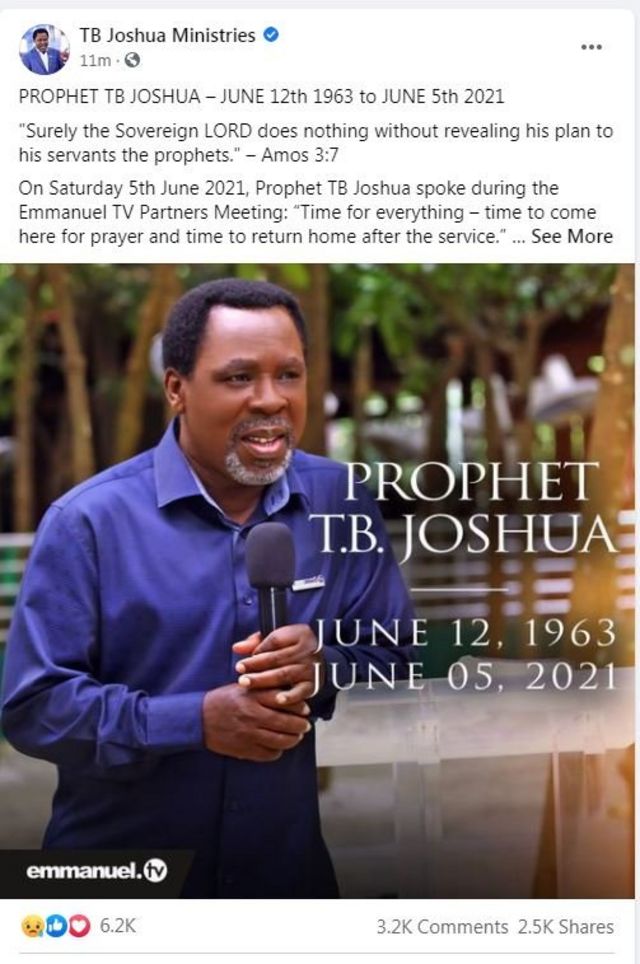 Confirming Joshua's death, Lagos Police Commissioner (CP) Hakeem Odumosu said he was officially pronounced dead by a hospital around 3am.
Odomuso said: "It is true he is dead. I do not know the cause of his death yet. But the information we have is that he was conducting service, along the line, he felt uncomfortable, walked to his apartment himself and never came back.
"His people thought he probably wanted to rest or refresh but when they didn't see him after a long while, they went in search of him and found him in an unusual position.
"The service started in the evening. But it was around 3am that he was pronounced dead by a hospital."
The church said Joshua's last words to his members were "watch and pray."
He was said to have also reminded them there was time for everything before he left the church hall.
The passing of my brother TB Joshua saddens me deeply. At 3.00am this morning I was told by one of his daughters that this was fake news & I tweeted as much. Sadly I was misled. 5 minutes ago the same person called me & confirmed the story. @GazetteNGR was right & I am in pain. pic.twitter.com/g6C1XhPKLB— Femi Fani-Kayode (@realFFK) June 6, 2021TB Joshua was someone who actually touched the lives of many poor people.Unlike many others, He was one pastor who actually reached out to poor people and always tried to help them.It's so sad to read TB Joshua is dead. It's actually quite sad. He was only 57.— #OurFavOnlineDoc ?????? (@DrOlufunmilayo) June 6, 2021
comments
it's so sad that Prophet TB Joshua is DEAD. Age 57
You might Like to Read This: – Dead body of missing kids found in a Car Abandoned For 5 Years, Police Apprehend owner in Abraka
I cant believe Prophet TB Joshua is DEAD. Age 57
so sad: Prophet TB Joshua is DEAD. Age 57